The AlfaSight 9000™ is a non-invasive patient assessment tool that identifies a wide range of physiological dysfunction by analyzing skin temperature changes over time. As an adjunct technology to mammography and other anatomical imaging devices, it can dramatically improve the accuracy of routine testing for a wide range of impaired health conditions.
Alfa Thermodiagnostics, Inc. has engineered a next-generation Whole-Body Thermometry adjunct diagnostic tool that provides a visible measurement of the Autonomic Nervous System, often the key to the causal factors of many diseases. The AlfaSight 9000™ is grounded in the established science of Regulation Thermography which was invented and first commercialized in Germany more than 20 years ago. It is a proven, accurate technology supported by more than 100,000 patient assessments, and has been clinically correlated with hundreds of MRI & CT Scans.
Dr. Daniel Beilin led the US FDA clearance of first-generation Regulation Thermography technology in 1996 and now has successfully led Alfa's upgraded device FDA clearance. He is recognized worldwide as the foremost authority on Whole-Body Thermometry, and is supported by leaders in the fields of Radiology, Neurobiology, and Regulation Medicine.
Dr Mikel is so pleased to offer Alfa Thermodiagnostics as new tool for analyzing underlying cause of abnormalities in the body. This tool offers information for the clinician and the patient to approach health care with from a truly preventative approach that helps identify and prioritize treatment.
Evaluate Whole-Body Physiology … in Minutes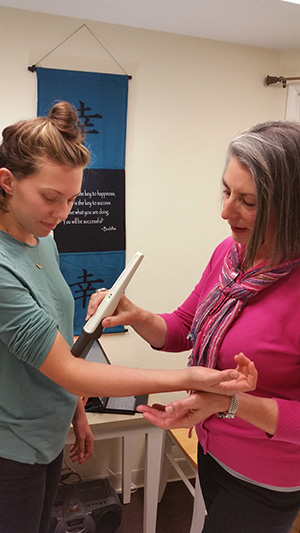 A functional test based in thermoregulation
Assesses regulation capacity of all organs, glands and lymph
Over 40 signature patterns of diseases processes are rated and prioritized
Integrative analyses of:

Breast Health (12 criteria)
Prostate Health (9 criteria)
Dental Health

Ideal adjunct diagnostic tool for these healthcare disciplines:

Functional & Progressive MDs
Naturopaths
Holistic Chiropractic
Acupuncture / TCM
Biological Dentistry